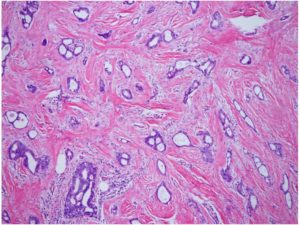 The largest precision medicine study ever done was presented at a plenary session at the annual meeting of the American Society of Clinical Oncology in Chicago. Researchers looked at more than 10,000 women aged 18-75.
Researchers were looking at  whether the standard of care of chemotherapy and endocrine therapy benefit all women with the HER-2  breast cancer.
The test assigned women to a score of 0-100 based on the likelihood that cancer would return within 10 years. The study's aim was to assess the majority of women in the middle range of 11-25 to see if there was a benefit from chemotherapy.
The results concluded that, depending on a patients age, women who received only endocrine therapy did not fare worse than those who were also treated with chemotherapy.
"practically speaking, this means that thousands of women will be able to avoid chemotherapy with all its side effects, while still achieving excellent long term outcomes" said Dr. Harold Burstein, an associate professor at Harvard Medical School.
The abstract from the New England Journal of Medicine can be found here.